The Workout Barre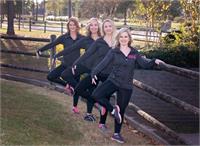 The mission of The Workout Barre is to enhance women's lives, by delivering a consistently high-quality workout combined with personal touch instruction using our non-impact yet powerful Barre group fitness classes.
We believe in the importance of our staff's dedication to the personal health and fitness of every woman who walks into our studio. At The Workout Barre, we empower our clients by assisting them in achieving positive life changes for years to come, increasing their endurance, strength, flexibility, and balance.
We believe in the positive effects of camaraderie. At The Workout Barre our desire is to create a community that is friendly and inviting to all women regardless of their current fitness level.
The Workout Barre instructs the following:
The Workout Barre is hosting a 7-week series of afternoon HIIT the Barre classes + Bible study on Wednesdays from 12:45-2pm. Start with a 30 minute class focusing on burning calories, building strength and endurance by blending elements of Barre and HIIT (High Intensity Interval Training). Fast paced and non-impact to be efficient with your time. Class will be followed by a Bible study featuring Priscilla Shirer's 'Armor of God'. "All day, every day, an invisible war rages around you. A cunning, devilish enemy seeks to wreak havoc on everything that matters to you - your emotions, your mind, your family, your future. But...when the enemy meets a woman dressed for the occasion, he fails miserably." 7 Weeks for Only $30 (includes book).