Kara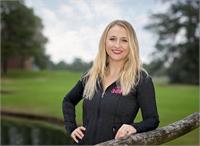 Prior to Kara's fitness ambitions taking over, she graduated from Sam Houston State University with a double major in Finance and Banking. Kara spent just a few years behind a desk, when she realized the need to refocus and pursue her desire to motivate and support women in the area of health and physical fitness.
Kara is an experienced STOTT certified Pilates instructor, with specialty training in posture analysis. She is also certified in Booty Barre, PiYo, and is a Level 1 Nutrition Coach.
Kara's sweet spirit creates a warm and encouraging atmosphere for her clients, and her fun personality is both motivating and contagious. Kara is thrilled to be part of The Workout Barre and we are blessed to have her on our team. She is looking forward to assisting you in achieving your health and fitness goals.
Kara instructs the following:
Open Barre class is The Workout Barre's benchmark class from which all other classes originate. 60-minute total body Ballet Barre workout that will tone, tighten, sculpt, burn fat, and promote flexibility. This class will work virtually every stabilizer muscle in your body especially the muscles that have been dormant for years, along with the larger muscle groups. There is a heavy focus on core strength, balance and flexibility. You will have a boost in confidence as you start to notice increased coordination, flexibility, muscle tone and strength as you sculpt your body. Truly one of the very best ways for a woman to change her body while being kind to herself. It never gets easier... you just get better. This class can be easily modified if you need more or less and is appropriate for all fitness levels.

Recommended: At least one Personal Barre class for best results.




This 60-minute class contains all the floor work elements of Barre working the glutes, thighs, and hips, combined with Pilates moves and stretches, with a major focus on the core, balance, and flexibility. This class will give your entire body a workout. This class is the perfect compliment to your Barre classes, as you continue to fine-tune your stabilizing muscles while strengthening all the major muscle groups as well. This class can be easily modified if you need more or less and is appropriate for all fitness levels. Props included in this class are the weighted ball, gliders, and Pilates ball. Check out the Barrelates website at: barrelatesbytwb.com




60 minutes of deep toning exercises at the Barre with resistance tubing and bands that provide extra opposition, producing a progressive challenge that will continue improving your muscle tone and strength. You'll burn fat, lose inches, and tone up.



This class can be easily modified if you need more or less and is appropriate for all fitness levels.




30 minute express class that will boost your heart rate, increase your cardiovascular fitness, and burn fat like no other! This class consists of 1 minute bursts of high-intensity movement alternated with 1 minute periods of active recovery at the Barre. Increase your strength and endurance with blended elements of Barre and HIIT (High Intensity Interval Training). Fast paced and non-impact, to be efficient with your time. Wear your heart rate monitor!

NOTE: This class will be followed by an optional 15 minute Core Blast™. Stay if you have some extra time, or feel free to leave if you need to.