Joni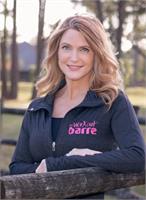 With almost 30 years of experience in the fitness industry and a passion for supporting women as they achieve their overall health and fitness goals, Joni Hyde has reached thousands of women through her brand Workouts For Women, Inc. founded in 1997.
Like many of her peers in the fitness industry, Joni sustained chronic injury as a result of years of vigorous high impact workouts. Motivated to find a safer way for her clients, through in-depth training, scrutiny, and research, Joni believes Barre is one of the most safe and effective exercise formats for women.
Joni is thrilled to offer Barre workouts at The Workout Barre in Spring, Texas; a boutique studio exclusively for women.
Published Author | Producer | Choreographer | Fitness Media Personality | Spokesperson for The Simple Shaper on HSN | Certified Personal Trainer | Certified Group Fitness Instructor
Founder of Workouts For Women, Inc.
Owner of The Workout Barre
More information on Joni Hyde's experience and accomplishments can be found at www.linkedin.com/in/jonihyde .
Joni instructs the following:
30 minute express class that will boost your heart rate, increase your cardiovascular fitness, and burn fat like no other! This class consists of 1 minute bursts of high-intensity movement alternated with 1 minute periods of active recovery at the Barre. Increase your strength and endurance with blended elements of Barre and HIIT (High Intensity Interval Training). Fast paced and non-impact, to be efficient with your time. Wear your heart rate monitor!

NOTE: This class will be followed by an optional 15 minute Core Blast™. Stay if you have some extra time, or feel free to leave if you need to.




This 60-minute class contains all the floor work elements of Barre working the glutes, thighs, and hips, combined with Pilates moves and stretches, with a major focus on the core, balance, and flexibility. This class will give your entire body a workout. This class is the perfect compliment to your Barre classes, as you continue to fine-tune your stabilizing muscles while strengthening all the major muscle groups as well. This class can be easily modified if you need more or less and is appropriate for all fitness levels. Props included in this class are the weighted ball, gliders, and Pilates ball. Check out the Barrelates website at: barrelatesbytwb.com




60 minutes of deep toning exercises at the Barre with resistance tubing and bands that provide extra opposition, producing a progressive challenge that will continue improving your muscle tone and strength. You'll burn fat, lose inches, and tone up.



This class can be easily modified if you need more or less and is appropriate for all fitness levels.